Indulge in a Sauna Bath with panoramic city view from our exclusive 15th floor Feel the pleasure to purify your skin, removing impurities and achieving a gradual increase in blood circulation.
Remember to book our staff in Terrace for optimal temperature at the time of your sauna bath.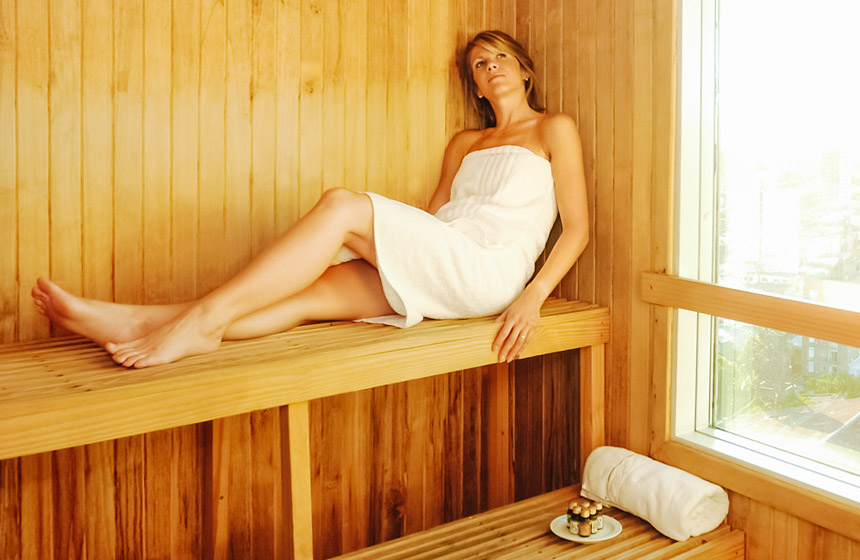 Returnable bathrobes and slippers available
Variety of aromatic essences available
The place is complemented with shower and lockers
December to March
Mondays to Saturdays from 10.00 to 21.00 hs.
Sundays from 10.00 to 20.00 hs.
March to December
Monday to Fridays from 13.00 to 21.00 hs.
Saturdays from 10.00 to 21.00 hs.
Sundays from 10.00 to 20.00 hs.
The usage of the sauna is restricted to guests and members only. Use at your own risk.
We recommend booking an appointment in advance to the int. number 277 or with a staff member responsible for the terrace. We ask you to respect the reserved time since last 15 minutes of the agreed shift, it will be given to another guest at the event that request, so we recommend stand 5 minutes before the time fixed.
We suggest to give an advance notice in order to cancel or change the reserved schedule, this way we can provide a better service to all our guests.
Please read the instructions set out in the record that the guest must complete and sign to ask his turn.
Do not consume any food or drinks in the sauna area, likewise, avoid entering the same immediately after eating any kind of food or drink.
Our sauna is not designed for mixed use, please accommodate the schedules of use for men and women established by our staff.
The usage of the sauna requires to be covered with a towel, please do not enter naked, in lingerie or dress clothes.